Children's Yoga – More than a pose
The Do Good Movement is more than just yoga classes and events for adults. Since August of 2016, Erin has been introducing yoga to children starting as young as two years old and as old as fifteen. A true passion and calling for her, Erin enjoys providing a class experience that is more than just learning poses and breath work. By incorporating art projects, music and games every children's yoga class is adaptable to the different needs of each child. Students will leave the Do Good Movement's Children's Yoga Class with a better understanding of what yoga is, how they can incorporate the different aspects of it into their daily life and how they have control of their own bodies and minds.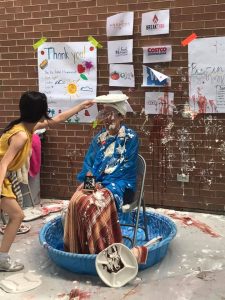 "In a nutshell, the teachers and students LOVE the Do Good program and they love working with Ms. Erin. There are many things that I value about the program, but what I especially love is that Erin is incredibly easy to work with and very flexible with the parameters of the movement. More specifically, the Lesson Plans are specific to the areas that the students need and, as a result of careful weekly planning by Erin (and not to mention her engaging teaching style), the students are engaged and truly see the value of the program and it's impact. I am very appreciative with the way each plan is developed so comprehensively based on the developmental age and levels of the students. Most SEL programs that I have seen or worked with are scripted and have a pre-prepared and more general grade level curriculum. The Do Good Movement is planned specifically around the specific school goals and student needs. This, along with  many other reasons, make this program unique, effective, and successful."
– Principal Nessner, Healy Elementary School CPS
*See below how you can bring The Do Good Movement Children's Class to your school or studio.
---
Below are a few samples of the Do Good Movement's Kindness Karma Project teaching children the importance of taking yoga off the mat and giving back to their local community:
Fundraisers: During a yoga session held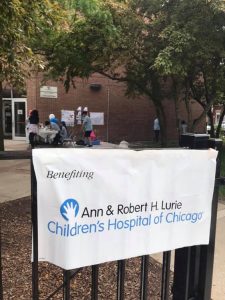 at Begin Within Therapy, The Do Good Movement worked with students focusing on ways to take their yoga practice off of their mat. When asking the students of ideas of what we could do to help raise funds to provide a service dog to the local community, the students came up with the idea to put together a Children's Resale Shop. By promoting, helping to collect gently used clothing, toys and books as well as volunteering the day of the fundraiser the students helped to raise over $4,000 in total for the service dog.
Karma Bracelet: Teaching students about the 8 limbs of yoga and the word "karma"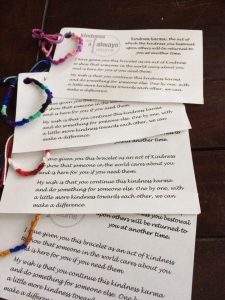 (that of which you give out into the world is returned back to you at a later time), students in The Do Good Movement classes worked on creating kindness karma bracelets. The mentality of this project was to create one kindness karma bracelet for them to keep and then create another one to give away. The students were asked to give this bracelet to not a family member of a friend, but someone in their life that they feel may needs some extra kindness or a reminder that someone out in the world cares about them.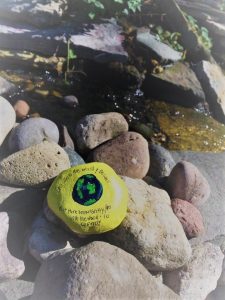 Positivity Rocks: Working on other ways to share their yoga practice with others, students created positivity rocks. They were asked to think of positive words or phrase to write on their rocks. They then were to decorate the rocks and were given to the task to place them at random spots within their communities. The intention here to share positive vibes and thoughts with others they may never meet or know.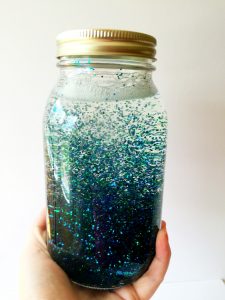 Mindful Meditation Jars: To help students take control of their own minds and bodies we spent time in every class talking about and working on meditation. One way to help students calm them selves and reconnect is by focusing the mind on one thing or item. By creating these mindful meditation jars, when the students shake them up and watch the glitter slowly fall to the bottom of the jar it helps them settle their mind and body. A great and easy way for their students to take their yoga practice off of their mat and home with them.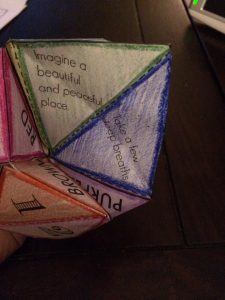 Calmness Cutie Catcher: Another great tool that students were able to take with them off of their mats were these calmness cutie catchers. We spent part of the class coloring and creating these which is a great way to help relax and calm the mind to begin with. When utilizing these calmness catchers, students are given different techniques to help relax their mind and bodies when playing with it (ex: "Imagine a peaceful place" or "Take a slow deep breath".)
---
Bring The Do Good Movement Children's Classes to your school or studio
The Do Good Movement is a fully adaptable and is a free moving studio meaning I can come to you! I am able to provide yoga mats, props, projects and more for the classes as long as you have the space for it. Payment and registration for classes can be handled through The Do Good Movement or through your school or business. If you may be interested or would like more information contact Erin Stevenson at erin.stevenson@thedogoodmovement.com.