Tears from the sky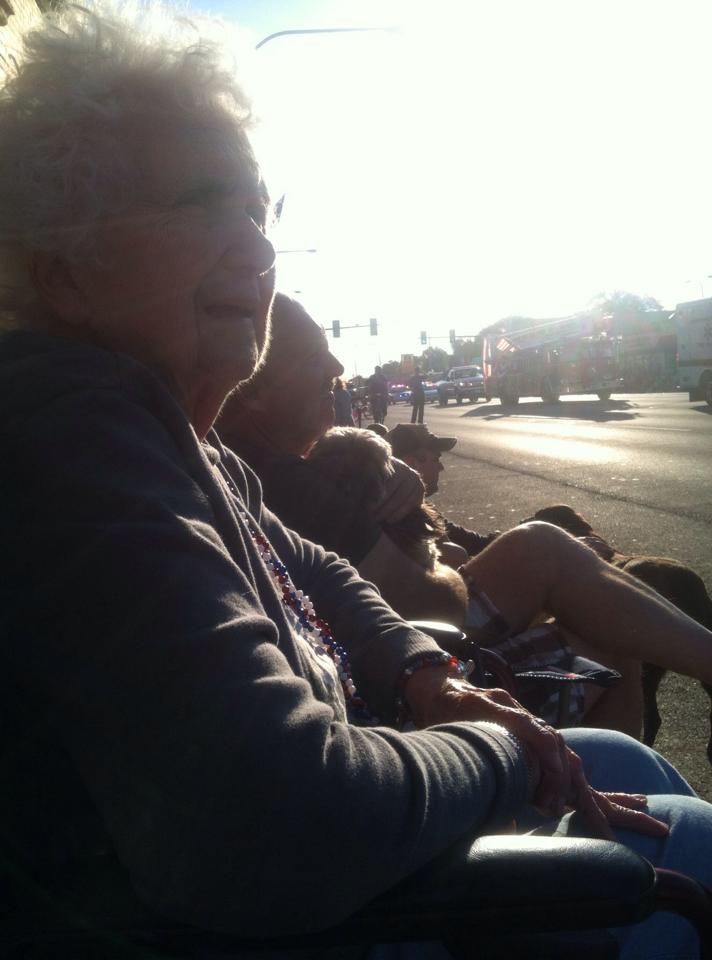 As I made my way from a meeting back to my desk I saw my cell phone light up. One missed call from Aunt Amy. Odd, she doesn't call me usually. Not having heard from her or my uncle for a few weeks my stomach dropped. I already knew the response when I was to return the call.
I listened to the voicemail. The quiver in her voice at the end of her message to give her a call back when I had a chance brought tears to my eyes. Piece by piece my heart which had finally healed from previous loss, started to break again. I grabbed my phone and walked out of the office returning the call.
"Hey Air." It was Aunt Heather picking up my Aunt Amy's cell phone. Crack, a bigger chunk of my heart broke again. I knew the answer before I asked what was going on. The calmness in my Aunt's voice surprised me and gave me a glimmer of hope that I could be wrong, but she quickly confirmed. My grams, at the age of 81, had passed away earlier that morning. The cracks turned into the sound of a melting glacier. As a piece of ice from the glacier hits the water and causes the waves within the ocean, that wave of the news overtook my mind, body and soul and I began to weep.
This wasn't a complete surprise that Grandma had passed away. Since my mother's passing in 2012 she was on a downward spiral with her health. She had some falls here and there along with other medical conditions as well as dementia. My Aunts and Uncle did an amazing job caring for her for the last few years of her life allowing for her to live at home with them; the greatest gift anyone can give their parents. But even knowing all of this, how good she had it and that things hadn't been great for a while, didn't make the news any easier.
I am not one to cry, but losing this amazing woman, my grams, shattered my heart and my soul. In my eyes she was all I had after mom passed. She was my connection to mom. Her love for me and the way she laughed, teased me and smiled reminded me so much of my mother. I couldn't bear to think that once again I lost another beautiful person in my life. Someone who I wanted desperately to meet little baby Stevo come March.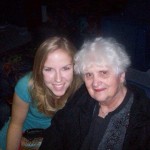 As I tried to collect myself I ran back into the office, notified those I needed to that I was to work from home the remainder of the day, and got in my car and drove. As I left the office and pulled out of the parking garage the sky and the light misting of rain brought me back. I was there again, walking Bella before the Chaplin was to come to spend time with mom the morning of August, 9 2012. As I made my way back to the house from a quick stroll with the puppy it started to mist just like it was doing right then on my drive home. As the rain touched my skin I thought to myself, "This would be the day that mom would die. It's like tears from the sky." I felt as if god or whatever power that be and my mom were looking down on me right at that moment crying with me for the pain I was going through. As I walked into my parents' house that day on August 9th, the Chaplin had just pulled up so I quickly ran upstairs to awaken mom. When I got there, just like the missed call from Aunt Amy, I knew. She was gone.
The fact that these two days were so similar with the rain and just the overall feel and emotion couldn't make more sense. I felt again that god or the power that be, my mom, my dad and now my grandma were looking down on me and joining me in the pain….in the tears, these tears from the sky. The thing that I have learned from this is that it is ok. It is ok to cry. It is ok to let the pain in. It is ok to miss the loved ones, to be mad, to be angry, to be sad and happy all at the same time. Death is a part of life. We all lose loved ones and we all at some time will join them. But until our own ending, the times of loss in between can shatter and break us. It is up to us to except these feelings, let them in and then let them go. It is the only way to move on and to move forward. Those waves of emotion will come again and it is up to you to let them go. It's the only way to continue to live.
So as I look back to both of those days that my mother and my grams came to their last day here on earth, I see these tears from the sky no longer as tears of pain but as a cleanse- a final goodbye. It was my last moment to feel them here with me and for them to say goodbye when they couldn't otherwise. My heart continues to mend, to heal once again but the tears from the sky have helped create that covering to allow it.