Growing in love, life and family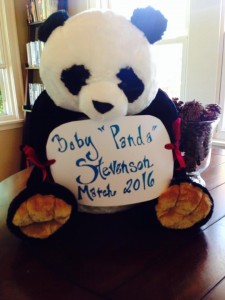 I shared a bit in my first blog post about how I fell in love with yoga and how yoga has been my saving grace. There were a lot of things that got me through the most difficult time of my life, the death of both of my parents. The strength of my family and friends were definitely a part of my success of making it through. The unconditional love my husband showed me, my mother and my father during that time truly was that deep strength that I needed to push me along. But also the internal strength that I never knew I had.
Yoga is special because it not only helps build up strength physically through the movements; helping to realign the body, making it more limber. But yoga allows you to truly connect with yourself that you aren't able to do during the rest of the day. During the year and a half that my mom was fighting her lung cancer in 2011-2012, yoga was that time in my life (in my day) to listen- truly listen to what I had to say. During the last 9 months of my mother's fight I took a leave of absence from work thanks to the help of FMLA and some amazing co-workers. During this time my relationship with my mother completely changed. My mother up to this point was my best friend, my world, my everything. We would share stories like best friends, get in fights like sisters and shop until we dropped like fools with a credit card. Her and I were everything to each other, especially during this time. But when I decided to transition from work into taking care of my mom, I no longer was her daughter. I quickly became the caregiver.
The caregiver is a role like no other. I was BOTH my mother's and father's (my father was currently in his own battle with Alzheimer's in a nursing home during this same time) advocate, power of attorney and decision maker. At the age of 25 I was my parent's accountant, personal assistant, house cleaner, manager of their medical appointments and decisions, part time nurse and so much more. It was silly for me to think that my relationship with my mother prior to this moment would stay the same. I was the one forcing pills down her throat when she didn't want to take anymore. I was the one holding her up in the shower when the cancer spread to her brain and no longer allowed her the strength to stand. I was the one changing her during the last weeks of her life to make sure she still had some sense of humanity- sense of life. It was truly heartbreaking to not only see the deterioration of my mother's health but also the deterioration of our previous relationship.
Yoga allowed for me to cope with this. As I mentioned before thanks to the help of amazing family and friends I was able to make sometime for myself a priority during these months. Each day, either during some time that a loved one was visiting with my mom or while the hospice nurse was in for treatments, I would leave the house for a quick run and an hour of yoga. In the class it was my time. It was my time to reconnect with my body- pushing it to it's edge. Trying new poses, getting deeper in familiar ones and just letting go throughout the practice. I didn't need to think about what medicine I had to give my mom next or what appointment was later in the day. I just listened to the poses being called and followed my breath to get into the different movements. I listened to the music flowing in the space around me and let the sweat drip off my body to my mat releasing the anxiety, anger and sadness.
The final savasana was the ultimate release. The time at the end of the practice where you finally release everything to the mat. There is no weight in the hands or feet, no more thought in motion, just stillness. It was then, during those final moments, I finally was able to connect with myself. I was able to feel what I was going through during this time with my parents. I was able to let go. Each and every time tears would begin to stream down my face. Sometime with a quieted gasp for air but mostly just silent tears. I was releasing the fear, the anger, the hate and sadness that I couldn't show during any other part of the day. Finally, I was able to hear my pain, recognize it and let it go. This is what helped me make it through the worst time on my life.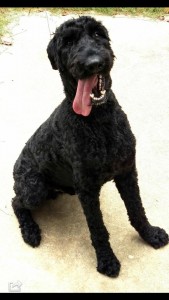 As the years have passed now with three years since both of my parents left this earth, my life has continued on. My life, my family, has grown. Only one year after the death of my mother I married the love of my life creating a new family with the inclusion of his into mine. Only a year after that I was blessed to hold my nephew in my arms after my loving sister-in-law and brother brought that little miracle into the world. Another amazing moment that changed my life. And finally, now, I am happy to announce that it is my turn to recreate that beautiful bond that I once had with my parents. I am more than happy, blessed and overjoyed to announce that Matt's and my family continues to grow as we welcome two new members into the family! On September 19th we will welcome Stewart Stevenson in the Beverly home as the newest Stevenson pup. Fingers crossed that him and Bella (our Shih Tzu get along).  But even more exciting news to share is that March 24th, 2016 Matt and I will be welcoming the newest member of the Stevenson clan, our child.
You hear all the time that there is never a right moment to start a family, that it all just works out. We have had a lot of "life" happen to us in the past near 5 years of our relationship. From deaths, to marriage, to career changes and purchasing our first home; this new change I will have to admit is the most exciting. I can not wait to become a mother, to share with little Stevenson all of the love, hope and guidance that my parents once shared with me. All I can pray for, besides a healthy and happy baby, is that this little nugget will, in the words of Papa Bickus, "do good".
I was lucky enough to encourage my mother to start writing during her diagnosis. It was about 2 months after her death I fell upon this passage on her laptop. Something I will forever hold near and dear to my heart and am forever grateful…
9/25/11-"I just want to tell you how much I love you and how proud I am of you. I admire you for your kindness, grace and humor. You are the total package as a daughter and woman in general. If I wasn't your mother I would want to be your friend and count myself as lucky to be one. You will be a mother some day and a good one – I'm sure of that. There's too much heart in you not to be a Mom – you were born to be and you came from good stock – both me and your Dad. He always adored you – of course Justin too but this is for you. You were his little girl from the beginning and the two of you had a special bond."-Leslie Bickus (my hero, my best friend, my mom).